Best New York Athletes Since 1968
New York

Magazine
marks its 40th anniversary this week with a jam-packed issue. There are hits and misses, but plenty of bang for the buck overall. The sports nerd in me was especially interested to see five "experts" pick the
top 10 New York athletes of the past 40 years
. As someone who's spent about 27 of those years following (and about 15 years attending) New York sporting events, I have my own two cents to contribute, below. Absent from my list -- and present on all five lists in the magazine -- is Joe Namath. I wasn't around during Joe's glory days, but from what I can tell from his record, he's one of the most overrated athletes of all time. Take away his Super Bowl win and his New York-driven persona, and there's not an awful lot there. So, my list:
10. Mark Messier
A Hall of Famer who came to the New York Rangers -- a team with maybe the most rabid following in the city -- and eventually led the team to its first Stanley Cup in 54 years.
9. Mike Bossy
As Jeremy Schaap puts it in the magazine (he also has Bossy at #9), "If he'd led the Rangers rather than the Islanders, he'd be ubiquitous." Bossy anchored the Islanders dynasty that won four Stanley Cups in a row (bumper stickers reading "The Drive for Five"
were
ubiquitous when I was growing up on Long Island). He scored 50 goals or more in nine consecutive seasons, still a record. He played only 10 years because of injuries, but he's one of the best ever.
8. Reggie Jackson
Hard to believe he only played five years with the Yankees, but they were big years. He helped drive two championship teams, including his legendary performance in the 1977 World Series. He hit three home runs in the series-clinching Game 6 that year. Even more incredible: All of those home runs came on the first pitch, and he'd hit a first-pitch home run in his last at bat in Game 5. His last four
swings
of that series resulted in homers.
7. Patrick Ewing
Unlike Walt "Clyde" Frazier (who was the last to miss the cut on my list), Ewing never won a championship, but then again, he had Michael Jordan's Bulls to contend with for most of his prime. He helped some average Knicks teams overachieve, and as a gentle giant his lack of a title just makes him a more sympathetic character. A rare New York athlete (like Don Mattingly) who's beloved despite his lack of hardware. I was at a Knicks game soon after he retired, and the camera picked him up near courtside during a timeout. As the crowd noticed his image on the screen, the cheers grew louder, and then louder, and then, impossibly,
louder
. It was one of the four or five most electrifying moments I've witnessed, and it was for a guy just
sitting there
.
6. Dwight Gooden
Gooden's career was never what it could have been, and that's well documented. Then again, based on his first few seasons, he set such a ridiculous standard for the word "potential" that he was bound to fail. His 1985 season, by itself, would land him on this list. At the age of
20
: 24 wins to 4 losses, 16 complete games, 8 shutouts, 267.7 innings (the most he ever pitched) with an ERA of 1.53. That's 1.53. Excepting Bob Gibson's miraculous 1968 season, it's the lowest single-season ERA in the last 89 years. I was 11 years old at the time, and even as a kid I knew I was watching something historically special. The most exciting single-season performance I've ever seen by anyone.
5. John McEnroe
McEnroe was born overseas, but grew up in Queens. He won seven singles grand slams, and is arguably the best doubles player in history. His on-court behavior could be disgusting, but his performance was just as frequently sublime.
4. Tom Seaver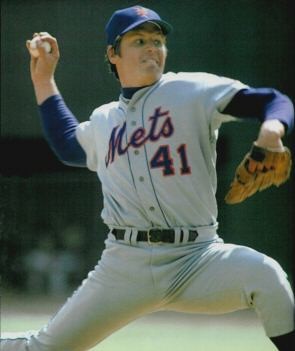 The ace of the Mets' staff for years and years, when the team was (often clumsily) learning to walk. Ranks 18th all-time in wins and sixth all-time in strikeouts.
3. Mariano Rivera
Rivera has so many mind-boggling statistics, it's hard to know where to begin. So let's allow his postseason record alone to speak for him...
In 76 games over 26 series, including four World Series titles: 117.1 innings pitched, 16 walks, 93 strikeouts, 8 wins to one loss, 34 saves, and an ERA of 0.77.
2. Lawrence Taylor
Like Babe Ruth in baseball or Wayne Gretzky in hockey, Taylor was a literal game-changer. He's widely credited with altering the way football was played. He's one of only two defensive players to win the NFL's MVP award. At 6-foot-3 and 240 pounds, it would be bad enough having him on your tail. Add to his dimensions that he was a
maniac
, and you have someone who was truly terrifying.
1. Derek Jeter
New York is a baseball town, and that means it's the Yankees' town. As the shortstop for the team's late-century dynasty, Jeter hit .314 (as a rookie), .324, .349, and .339 in the four seasons that the Yankees won championships. He's likely to finish his career with 3,000 hits, which only 27 others have ever done. And he's done it all with grit and class.