The List Heads Toward the Teens: 25-21
25. Ben Folds Five -- Ben Folds Five
(1995)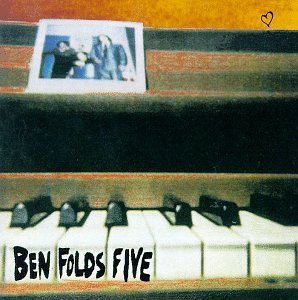 I'm a big fan of Billy Joel, a fan of Elton John, and I was raised with an appreciation for theatrical music, a.k.a. "show tunes." So my liking Ben Folds, a piano whiz who's unafraid of showy, is one of the least surprising things about me -- and there's almost nothing surprising about me at all. Just about every song on his band's debut is, well, cheeky, and catchy and energetic as hell. On "Julianne," he meets "this girl, she looked like Axl Rose"; on "Underground," he sings, "we'll be decked in all black / slamming the pit fantastic / Officer Friendly's little boy has got a mohawk / and he knows just where we're coming from"; and in the closing minute of "Philosophy," he riffs twice on "Rhapsody in Blue." This album, more than most on this list, is a
good time
. Even on a slower number like "Alice Childress," there's a bouncy, life-affirming quality. Music to turn a bad mood good, or a good mood better.
24. Michael Jackson -- Off the Wall
(1979)
You know, life
ain't
so bad when you're livin' off the wall. OK, so this album is also a good time. A reminder that Michael Jackson didn't become interplanetary-famous just because it seems like he's from another planet. The mega-hits -- "Rock With You," "Don't Stop 'Til You Get Enough" -- were mega for a reason, but the album is pretty great the whole way through. This and the
Saturday Night Fever
soundtrack (which got consideration for the list), are proof that the disco era wasn't just a joke. When you hear the over-processed, mechanical, grinding horror of Britney et al., it's awfully easy to pine for the Bee Gees and for Jackson's smooth, soulful voice.
23. Trash Can Sinatras -- Cake
(1990)
Over the years, the Sinatras' songs have become more delicate and carefully produced. (Their last album, the very good
Weightlifting
, is evidence.) But for this, their debut, things were a bit more rambunctious. Nothing crazy is going on, but for guys so interested in melody and using acoustic instruments, they make a spirited racket.
As Wikipedia tells it, the band's music "makes frequent use of wordplay and pop harmonies." Fair enough. Opener "Obscurity Knocks," the band's biggest hit, such as it was, includes the line "Oh, I like your poetry but I hate your poems." I've always liked that. And things get even wordplay...ier(?), as in: "And the itch to get rich quick has never been so hard to reach," and "I know she doesn't play the field / but she likes to know the strength of the team," and "Hands of the clock give me a round of applause / for getting out of bed / and the scars of the night before / have turned into scabs." But lead singer Francis Reader sings with a Scottish accent (and occasionally at a speed) that often make the words a bit of a blur. And the songs can be moving; this isn't wordplay in a Weird Al way.
But do beware. As one stymied customer on Amazon wrote: "I purchased this CD, thinking I had stumbled upon something by the group Cake that I didn't already own. I was EXTREMELY disappointed -- this is NOT by the band Cake!"
No. No, it's not.
22. Buffalo Tom -- Big Red Letter Day
(1993)
Early in its career, Buffalo Tom had the pretty funny nickname of Dinosaur Jr. Jr. But this record marked a departure from the band's earlier, noisier sound. Lead singer Bill Janovitz has rusty pipes in the tradition of Paul Westerberg (the band also got a lot of early comparisons to The Replacements, though The Replacements Jr. just doesn't have the same zing), and the band still makes a loud sound for a trio, but these songs are more consistently melodic. To drag my parents into this, I'll put it this way: If I were playing the previous Buffalo Tom album that made the list in the same room as my mother, it would take about 12 seconds for her to ask me to stop it. With this, she might even make it through a song or two before asking.
Like R.E.M. at its best, the band benefits from strong additional vocals, in this case from bassist Chris Colbourn. He helps out on harmonies, and takes the lead on "My Responsibility" and "Late at Night," two of the album's gentler songs. Over the course of 11 tracks and about 40 minutes, there isn't a misstep on
Big Red Letter Day
, which is just a reliable, well-produced batch of rock songs.
21. Matthew Sweet -- Girlfriend
(1991)
This should probably be higher.
By '91, Sweet had released two records with really terrible production that turned his songs into synthed-out '80s garbage. On
Girlfriend
, with the help of guitarists Robert Quine and Richard Lloyd, he turned his career around very quickly. Written and recorded in the wake of a divorce,
Girlfriend
has often been called a concept album about the cycle of a relationship. It does cover a lot of bitter-and-confused ground, and you don't even have to go past the song titles to see it -- "Thought I Knew You," "You Don't Love Me," "I Wanted to Tell You," "Don't Go," "Your Sweet Voice," "Nothing Lasts."
Getting the picture?
Girlfriend
covers
some
other ground -- God ("Divine Intervention"), international conflict ("Holy War") -- but yeah, this is about a dude getting his heart smashed. Luckily, Sweet's harmonies and his debt to The Beatles and The Beach Boys, among others, mean that his smashed heart sounds better than most people's wedding day.
"I've Been Waiting"
, one of the more optimistic offerings here, is a close-to-perfect pop creation, and every other song gives you
something
to cut the misery. Even the closing "Nothing Lasts," which plays like the title would lead you to expect, real funeral-like, is somehow pretty enough to avoid morbidity. In fact, most of the album
sounds like its message
: people hurt each other, they cause suffering, but they also go out in the sun and play guitar.
Labels: 100 Albums