Things I Liked in 2006
Enough out of all of you. And apologies if this reads a bit thrown together, but for the love of God, this stuff isn't going to post itself. If I wait much longer, I'll have to fold in my 2007 favorites.
So, in no particular order:
Boys and Girls in America

by The Hold Steady
Everything I read about The Hold Steady had me prepared to hate them. Small and devoted hipster following. Got bigger after moving from the midwest to Brooklyn. Singer talk-spews more than sings. Eek. But I'm telling you, I took a long drive with this record and it was all I could do not to pull over to the side of the road and start moshing.
OK, I don't mosh.
Plus, more accurately, this album inspires behavior somewhere between lifting a lighter high in the air and pulling your girlfriend into a moving car in order to stage full-scale dramatizations of early Springsteen songs. The music here sounds a
lot
like the E Street Band, and Thin Lizzy, and Cheap Trick, and I swear to God, Bon Jovi. But it works. No, leader Craig Finn can't sing. But he can write (the lyrics are razor-smart), and the band behind him touches so many guilty-pleasure bases that you end up too dizzy to ask for more.
***
Hotel Lights
I've written about these guys before, so you should probably just
revisit that post
, keeping in mind that the album only continued to grow on me after I initially recommended it.
***
The History Boys

(on Broadway)
I enjoyed
the movie
, too, but it was born as a play and it's best as a play. Everyone in the cast was terrific, and Samuel Barnett's performance as Posner was especially moving. Listening to him sing "Bewitched, Bothered, & Bewildered" was probably my favorite moment of the year.
***
Road trip
Last spring, I embarked on the Second Annual Baseball and Cultural Exploration Across America with close friend, beef-jerky expert and polymath JF. I got to show him around Texas, a perfectly livable state (other than the fact that it was mid-May and it already felt like the surface of the sun), catch up with some old friends, visit family, take in a few games, and generally have a blast. Highlights included meeting the adorable children of two close friend-couples (four friends in total) in Austin, tipping back a drink (instead of several -- damned lack of public transportation) at a favored watering hole in Houston, and spending time with the usual band of outlaws and kin in Dallas. If you're interested in learning more (and how could you possibly not be?), the experience has been
preserved here
.
***
Jennifer O'Connor
On both her full-length album,
Over The Mountain, Across The Valley and Back To The Stars
, and her ep,
Another Side of Jennifer O'Connor
(which includes a top-notch cover of Dylan's "To Ramona"), O'Connor sounds gritty and maybe even a little mean, but she has an ear for a hook and a pleasingly raspy voice. If you don't like either "Exeter, Rhode Island" or "Sister," then there's probably nothing here for you.
***
The Blind Side

by Michael Lewis
If you haven't had access to any organ of literacy for the past few months, let me tell you:
The Blind Side
is the story of Michael Oher (pronounced "oar"), a very poor, very, very large teenager in Memphis who is somewhat miraculously accepted into a private school and adopted by a wealthy white evangelical family. He also becomes, after barely playing an organized game, one of the most highly pursued football recruits in the country. It's a story that clearly belongs in the "Fiction, Truth Stranger Than" file.
Yes, Lewis has a way of exaggerating his tales until they take on the shine of myth. And yes, he's getting a bit Gladwellian (and I like Gladwell) in the way everything
has
to serve a larger thesis. And yes, there are some aspects of this story (particularly the sham that is the "academic" side of big-time college athletics) that he doesn't take to the mat in quite the way he could or should, but I've said it before and I'll say it again: Michael Lewis could write a 900-page book about the manufacture of a single paper clip, and I would be in line to buy it the day it was released.
***
Band of Horses
Their self-titled album has held up better than anything else released in '06. The production has a satisfying amount of reverb and spaciousness without becoming gimmicky, and even though several songs sound the same, it's not in a "Come on, try something new" way. It's in a "More, please" way.
***
The Greatest

by Cat Power
This is neck and neck with Band of Horses for record of the year. Pristinely produced, it reins in Chan Marshall's more esoteric impulses and turns her into something resembling a standards crooner (in a good way). The veteran Memphis players who back her up don't hurt. I loved
Moon Pix
, but I was starting to worry that Marshall would end up recording mostly in large fields, underneath thunderstorms, mewling about mental fracture and drunken despair. And I'm ready for more of that, soon, don't get me wrong. But
The Greatest
feels like a beautiful, clear-eyed, necessary detour that may turn into another trip entirely.
***
The NCAA men's basketball tournament
With occasional exceptions, the blog doesn't really reflect the level of my sports geekdom. It's not as much of a lingua franca in New York, so it gets buried a bit, under books and career and current events. But it's there. And last March, I was staying up very late at night to watch what seemed like one good game after another in the first two rounds of the men's college basketball tournament. But then, in the rounds of 16 and 8, the tournament became ridiculous. You couldn't write as many dramatic, well-played games: Connecticut-Washington, Villanova-Boston College, Texas-West Virginia, George Mason-Connecticut. Every one of those games -- three of them went to overtime -- could be described as a classic, and they all happened in about 48 hours.
***
Midlake at Southpaw in Brooklyn
I don't get to many live rock shows anymore. I've seen most people I want to see. I'm disdainful of the crowds and their youth. Honestly, I'm just a bit tired. But I should go more than I do. I explored Midlake after seeing the show and, as is often the case, their appeal on record just wasn't the same. But this was a great set (opening for Cold War Kids, who were spazzily energetic and kind of annoying). I've read many references to Neil Young and Fleetwood Mac with regard to Midlake, but I heard more than a bit of the accessible sides of Radiohead and Grandaddy.
***
Clive Owen in

Inside Man

and Aaron Eckhart in

Thank You for Smoking
In Spike Lee's best movie in ages, Owen plays a bank robber who has all the angles figured out but has to deal with an obsessed Denzel Washington. Despite having his face covered by a white mask nearly the entire time (not even a sheer mask), Owen manages to be charming and menacing and completely in control of the screen.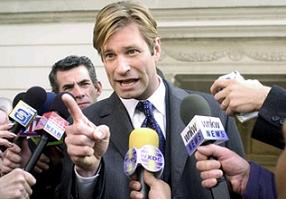 Thank You for Smoking
was probably the new release that provided me the most laughs in 2006, and Eckhart is perfectly cast as a rascally lobbyist for the tobacco industry who's so generous with his one-liners and his boyish grin that most people around him don't mind that he doesn't have the first trace of a conscience. Even when you think the movie is going to sell out the performance and have him Learn Something, you're in good hands. He's so great that he even overcomes others who were miscast (hi, Suri's mom).
***
Dave Chappelle's Block Party
I've said of only a few people that they can make me laugh just looking at them, but I'm not sure I've ever meant it as much as I do with Chappelle. He can be brilliantly funny on purpose, obviously, but he also makes me smile when he's just ambling down the street. It probably says something about what a neurotic mess I am, but I sometimes just find it hysterical how
relaxed
he seems. (Let me beat the first clever commenter to this one: "I think I know a way you can look as relaxed as Chappelle.")
This documentary, which chronicles a concert he staged in Brooklyn, with entertaining (and insightful) side trips to his home state of Ohio, is the best time I had in a theater last year. It wasn't the best movie, though it was good. It was a fun time the way that having a picnic with friends is a fun time. Except that, looking back, no one else in the movie (and there are lots of people) is particularly fun. It's just Chappelle. He carries the whole thing into the air.
***
Penelope Cruz in

Volver

and Helen Mirren in

The Queen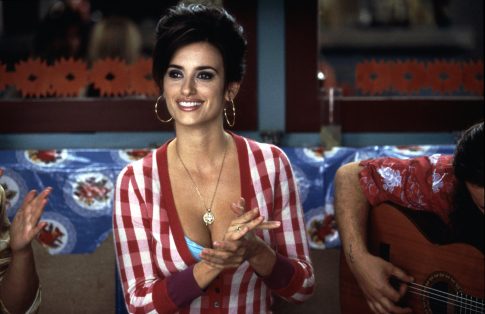 It's no coincidence that these were probably the two best movies I saw in a theater this year -- they both feature phenomenal performances by their leads. Cruz has seemed a bit dreary to me in the past (though always stunningly beautiful), but for director Pedro Almodovar and in her native Spanish, she sparkles. The movie is the third or fourth in a row from Almodovar that's a must-see and, even more than usual, you can't take your eyes off Cruz.
Mirren is just bizarre, she's so good. No matter how often I read about how lanky she is, I don't believe it after watching her get into full frump mode to play Elizabeth in the wake of Princess Diana's death. The movie is terrific -- well written, tightly edited, beautifully shot -- but even given its many strengths, Mirren towers over it. If she doesn't win the Oscar, it better be Cruz, or the academy will have even more than the usual amount of explaining to do.
Labels: Recommendations